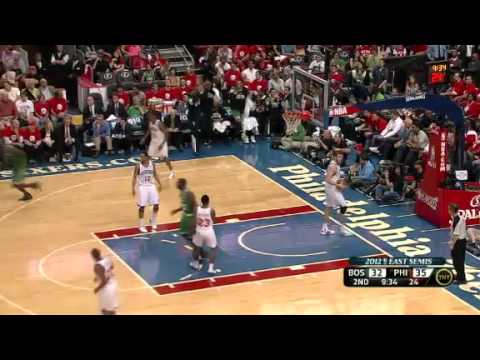 Flashback to June of 2008, the Celtics defense put the clamps down on the L.A. Lakers and closed out the NBA finals in 5 games. The Celtics brought that spirit back against the Sixers in Game 3 on Wednesday night.
Nobody wants to play the Celtics right now. They're a tough out. Kevin Garnett has been the Celtics postseason MVP thus far, averaging over 20 points and 11 rebounds per game. But aside from his production, his leadership and compete level has been contagious… bringing back "Ubuntu".
Also inspiring is watching Avery Bradley play through a reoccurring shoulder injury. In Game 3, his shoulder came out of socket again on a drive to the basket and a collision with Elton Brand. I had a terrible feeling watching Bradley walk away from this play with his left arm hanging down. A separated shoulder is unmistakeable. Celtics trainer Eddie Lacerte could not put Bradley's shoulder back in place on the Celtics bench and escorted him to the locker room. At that point I thought Bradley was done. But not only did he come back, he played terrific on-ball defense with one good arm for most of the forth quarter.
And there are some intangibles that are fueling the Celtics resurgence. The team is using the media's 'Celtics are old' notion in a very "Belichickian" way. Kevin Garnett was very poignant in addressing some bulletin board martial from Hawks owner, Michael Gearon Jr., where Gearon Jr.labeled KG as "the dirtiest guy in the league". Garnett had some choice words for Gearon Jr. after the game 6 close-out win over the Hawks. Watch Rajon Rondo's reaction after game 1 when David Aldridge referred the Celtics as an "older team." Rondo said, "…look at us we'll be fine", then bailed on the interview. I liked that.
Lastly, given the context of the impending "last year of the big 4″ and the intensity level of their defense, a championship run appears to be aligning for the Celtics.
The question is… can they sustain?